Lore of Cray
Page last edited 2,050 days 23 hours ago
From Cardfight!! Vanguard
United Sanctuary
A holy nation that follows the concepts of justice and order, and has managed to combine religious faith and technology.
Royal Paladin
United Sanctuary's main forces, made up of humans, sprites (elves, fairies), and deities (gods, angels). They may look grand in their armor and swords, but these troops are well equipped with the fighting powers that both magic and science have to offer.
Legion
Jewel Knights
One of the titles handed out to elite knights in the first army of United Sanctuary, Royal Paladin. Those chosen wear and use armor and equipment that are covered in gorgeous gemstones and jewels containing with magical power known as Magical Jewels, causing them to also be known as the most fabulous and glamorous knights in the army. Those who belong to their numbers combine the traditional style of a knight along with the additional supernatural power of magic, and are nicknamed the "Knights of the Magical Treasures" due to their equipment and the tactics they employ using them.
Units
Eagle Knight of the Skies
I can read the path of winds!
A knight who soars across the skies atop the mythical high eagle. It prides itself on its instant knockout tactics that utilizes air currents, riding them at incredible speeds. When multiple Eagle Knights surround the enemy, they'll mince them apart with their swords that have slain countless enemies.


Knight of the Steel Blade, Caradoc
There is nothing my sword cannot cut! Blue Moon Saber!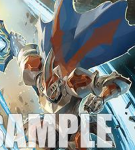 A heavy knight who wears heavy armor that is as hard as a rock. Amongst the heavy Knight Corps, he is a rather unusual fellow, as the strength of his muscles is said to rival that of the giants. The flash that emerges from its mighty sword is called "Blue Sky Full Moon Slash" can easily cut a diamond in half.


Stardust Trumpeter
Blow the trumpet! The time has come to fight!
An angelic girl whose charming point is her lovely bun shaped head. She blows the "Magic Trumpet", which gives others the strength and courage to fight.
Shadow Paladin
Legion
Units
Gold Paladin
Legion
Units
Oracle Think Tank
Legion
Units
Angel Feather
Legion
Units
Genesis
Legion
Units
Dragon Empire
Kagero
Legion
Units
Narukami
Legion
Units
Tachikaze
Legion
Units
Nubatama
Legion
Units
Murakumo
Legion
Units
Dark Zone
Dark Irregulars
Legion
Units
Spike Brothers
Legion
Units
Pale Moon
Legion
Units
Magallanica
Granblue
Legion
Units
Bermuda Triangle
Legion
Units
Aqua Force
Legion
Units
Zoo
Megacolony
Legion
Units
Great Nature
Legion
Units
Neo Nectar
Legion
Units
Star Gate
Nova Grappler
Legion
Units
Dimension Police
Legion
Units
Etranger
Legion
Units